Tuesday, 28 February 2023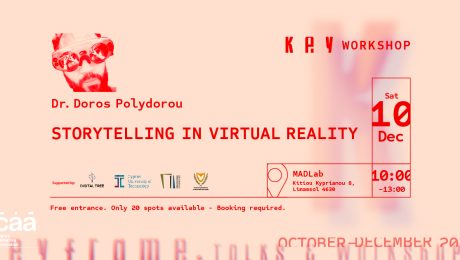 KEYFRAME◆ Storytelling in Virtual Reality with Dr. Doros Polydorou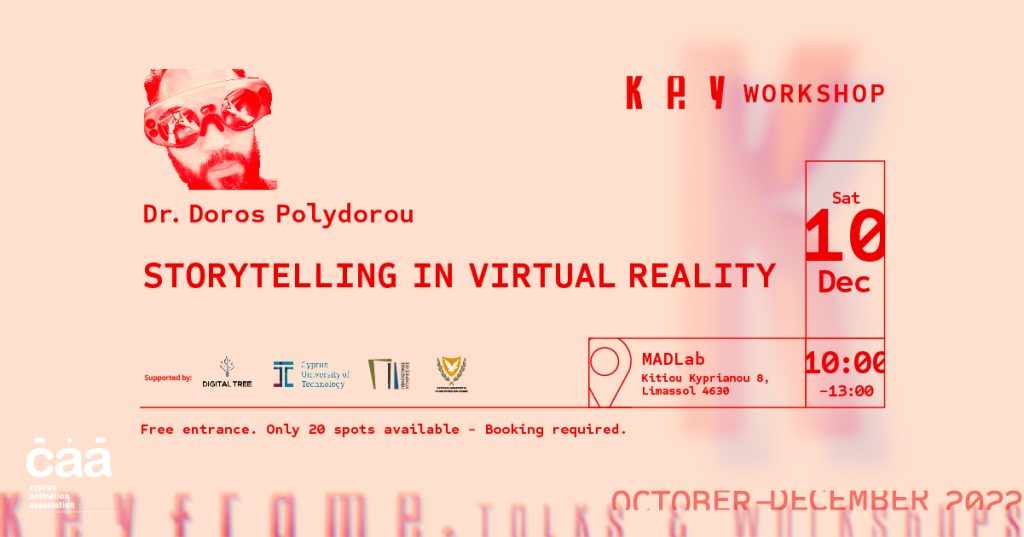 The last Keyframe◆ event happened on Saturday 10 December, at
MADLab
, Cyprus University of Technology, Limassol. A very engaging workshop was conducted by
Dr. Doros Polydorou
on storytelling in virtual reality, a subject that he is greatly familiar with through his research and career.
Doros presented some of the immersive projects he and his team (of students and professionals) have created over the past few years, and explained the process and concept of developing narratives and finding ways for technology and methods of enhancing the experience of the story. Through examples, he explained challenges they came across in developing their projects, and how their decisions were influenced by the demands of the narrative.
The workshop required teams of 4-5 people to pick 1 out of 4 subjects/themes and develop a concept and storyline while considering how the user would experience it. The lab started to buzz, as the 4 teams begun brainstorming and exchanging ideas. Each participant used their experience, skills and interests to contribute and by the end of it, each team presented their idea to the rest of the room and allowed for questions and suggestions.
Thank you to all who joined us on the day.
****
Keyframe is a series of events organised by CAA for the animation community and this will be the very first of them! The events will span over the course of late 2022, so watch this space for more updates
Keyframe. Talks & Workshops will include workshops (and talks of course) by professional artists in the fields of animation, VFX and games. The topics will include pre-production stages, 3D animation and motion capture, tips & tricks, presentations and talks of international projects and more.
Ticket pricing may vary but all CAA Members will enjoy FREE entrance to all events. (but will still need to grab themselves a free ticket on Eventbrite.)