KEYFRAME◆ Funding opportunities within the program "Creative Europe – MEDIA" @ The Animattikon Project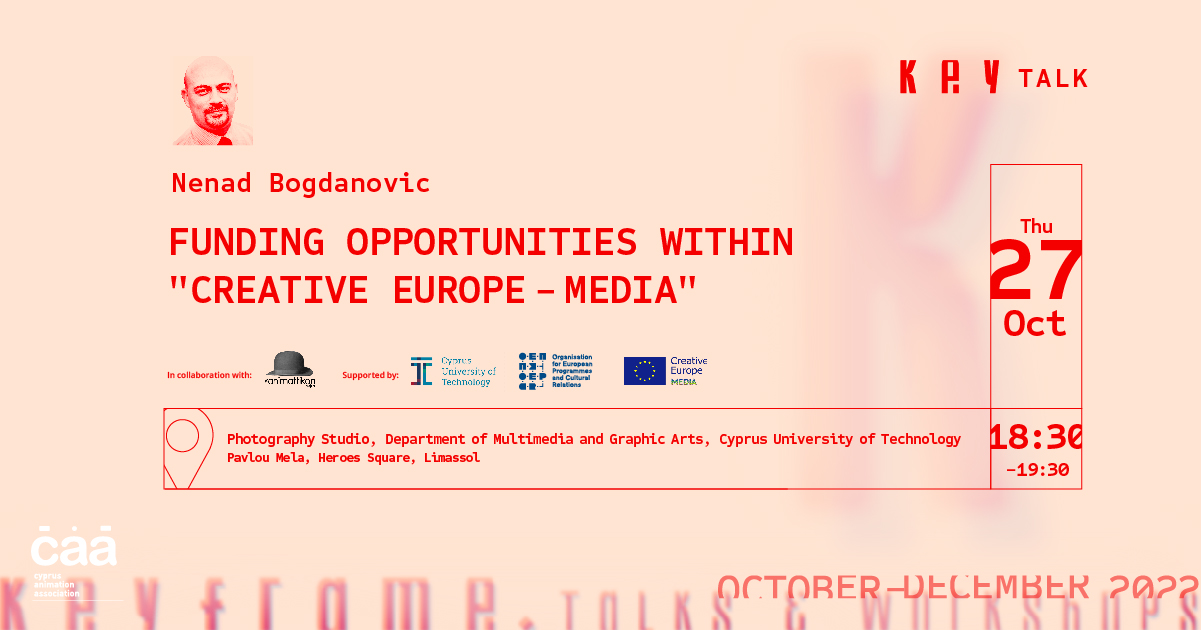 On 27 October 2022, CAA in collaboration with The Animattikon Project hosted the presentation on Funding opportunities within the program "Creative Europe – MEDIA".
It was presented by the Planning and Development Coordinator at  the Organisation for European Programmes and Cultural Relations, Nenad Bogdanovic at the Photography Studio / Department of Multimedia and Graphic Arts, Cyprus University of Technology.
The presentation covered how creators and producers of various projects could apply for European funding  from the "MEDIA" strand which is designed to encourage cross-border cooperation among producers and content developers and stimulate innovation in terms of content. Eligible creators can apply for funding for the development and production of Animation, Documentaries and Video Games.
****
Keyframe is a series of events organised by CAA for the animation community and this will be the very first of them! The events will span over the course of late 2022, so watch this space for more updates
Keyframe. Talks & Workshops will include workshops (and talks of course) by professional artists in the fields of animation, VFX and games. The topics will include pre-production stages, 3D animation and motion capture, tips & tricks, presentations and talks of international projects and more.
Ticket pricing may vary but all CAA Members will enjoy FREE entrance to all events. (but will still need to grab themselves a free ticket on Eventbrite.)